Welcome to
Thrifty Thursday
....
Is it hot at your house right now?? We are hitting temp's in the mid-90s and higher which is HOT for around here! By the end of the week, we may see 100....crazy!
So....if it's too hot to have a campfire outside at your house, how about this inside fire from Smilemonster's?
Jo and her kids even "melted" some marshmallows in the sun for a little s'more treat!
I love how

Art Is Beauty

took this ho-hum average bench...
...and turned it into this....a pretty piece of art!
She also made this really cool candle holder out of a piece of wood!

Something Created Everyday made one of the coolest "green" projects that I have yet to see!
She made that....from...are you ready??? Plastic Grocery Bags!! I want to learn how to do this! Lynda could you come and do a guest post??
Stubbornly Crafty took a thrift store box....
and transformed it into a beautiful toy box! She also gives a great tutorial for how to paint those clouds!
Finally, Artsy VaVa transformed this thrifty store chair...
..into this beauty! I'm just loving the graphics!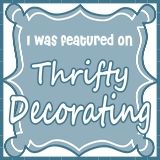 It's time again for week #18 of
Thrifty Thursday
.......
Here are some very simple suggestions for the party:
1. Please become a follower of Thrifty Decorating.
2. Be sure to link to your POST and not your blog.
3. Please copy and paste

my link button

somewhere in your post
or blog so that others can link back.
4. Share some

comment love

....We all love to get them!!