I have been working on 2 thrifty projects recently and each have been big "fails!" Do you ever have that happen.....where you "see" the project in your mind and then when you get to end, it looks nothing like you hoped it would??
Or......it peels right off the refrigerator??? I was trying to put a chalkboard on my fridge.....yes, primer is a MUST!!
Well, this week's featured projects on
Thrifty Thursday
are inspiration for those of us who try.....and sometimes, fail!
One that caught my eye right away was this guest bedroom makeover from A Step in the Journey....
My favorite part of the whole room is that gorgeously thrifty headboard made from old wood! What a great idea!
Taking a Sunday Drive took this $2.00 yard sale chair...
....and turned it into this blue beauty!
It is just so pretty!!
I have to admit that I was a little nervous when I saw the title of this next post...."you can shut your cornhole for less....."
But then I realized that Tres Chere was talking about this....
The cornhole game that they turned into this beauty!!
And Angela and Debbie did it for less than $20!!
Another project that is just made beautiful with paint!!
There were some yummy looking recipes that linked this week!
Chef in Training linked these lasagna roll-ups....
...while Sensible Shoppers used wonton wrappers in this version of Petite Lasagnas!
....chocolate freezer pie!!! I will be making this before the summer is over!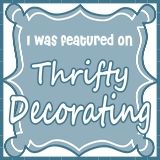 We are at week #21 of
Thrifty Thursday
.......
Here are some very simple suggestions for the party:
1. Please become a follower of Thrifty Decorating.
2. Be sure to link to your POST and not your blog.
3. Please copy and paste

my link button

somewhere in your post
or blog so that others can link back.
4. Share some

comment love

....We all love to get them!!
After you've linked here, hop over and say "hi"
to Johnnie at her Thrifty Thursday link party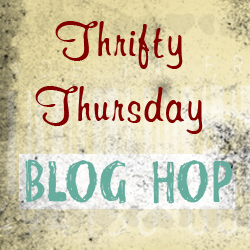 You can also head over to Thrifty and Fabulous.

Erika is just starting a Thrifty Thursday link party, so please
go an visit her "fabulously frugal" blog!