Last week was our biggest week of
Thrifty Thursday
!!
There were almost 100 links....woohoo!! Thank you for all of your wonderful ideas! I was very inspired by many of them! So because there were so many links....there are a few more features!
I love this nursery/guest room from B.E. Interiors....
If you look carefully, you'll see the fabric that she used is camouflage! Love it!
She also made this custom art for the room....just so creative!
And who wouldn't want a closet like this from Everyday Lovely......
All it took was some paint and a stencil and the closet is transformed into a gorgeous display in her home.....and I'm loving the baskets!
I just love how you all seem to transform old chairs....I keep looking by the side of the rode for one in the trash!
Taking a Sunday Drive made-over this one into something too pretty to sit on!
If you want to learn how to transfer cool lettering or graphics, Home Frosting linked up an A-MAZING tutorial! Really.....it is so easy to understand!
Not only does she give a fabulous tutorial.....but she shows you how to make this out of an old mouse pad!
Now I have no idea how Nikki over at Chef in Training stays so thin and pretty when she is linking up recipes like this every week.....
Yum! This easy chocolate cheesecake looks
scrumptious and the recipe looks SO simple!
I'm looking forward to some "winter cookin' " again.....you know, the kind where you actually turn the oven back on because it's not 95 degrees outside?! Joyful Homemaking shared this recipe for Taco Spaghetti....
This looks like a yummy combo! But.....would my kids eat it??? Hmm.....too many different foods might be touching each other......
The East Barn took some ugly Craig's List end tables and brought beauty back to them!
The light distressing and stained top is just stunning!
You don't really even want to look inside my oven.......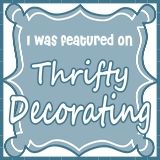 Here are some very simple suggestions for the party:


1. Please become a follower of Thrifty Decorating.
2. Be sure to link to your POST and not your blog.
your post
or blog so that others can link back.
After you've linked here, hop over and say "hi"
to Johnnie at her Thrifty Thursday link party